Should We Have TVs in Private Club Spaces
As we ponder many of the age-old questions in life, we in the club business are often faced with the big one – should we have TVs?
Always Connected
In today's fast paced connected world, immediate gratification is a given. We all want to be connected, all the time – or do we? Many members regard their club as an oasis, a respite from their everyday pressures and responsibilities. Members want to escape and where better than their own private resort. But then there is reality! What are the kids doing? What's the score? Where is the market? We say we want to escape, but do we really?
Creating the Escape
One of the most hotly debated issues that we encounter when discussing clubhouse facilities with committees is whether televisions should be included in the decor package. A strong argument can be made to leave out the screens so members can be focused on real interaction with spouse and friends. For most clubs, there should likely be a space like this carved out so that members wanting an uninterrupted social experience can have a place to enjoy.
Setting the Tone
The main member gathering spot, that central bar and dining space should not be that quiet venue. As members gather to enjoy each other in a vibrant and energetic setting, whether indoors or outdoors, the "vibe" sets the tone. That vibe is created by the setting, the music, the staff, of course the people and …. Televisions! Our insatiable desire for up to the minute information has made TVs normal and even expected backgrounds in most of our social gatherings. It is not if the TV should be there, it is more about when it's on and what is on the screen.
Enhancing the Experience
As clubs proceed in developing their destination member bar and dining complexes, in an overwhelming majority of situations, the inclusion of well-placed and appropriately sized televisions is critical to creating the desired atmosphere. What every club must do as part of their television installation is to have a comprehensive WRITTEN policy covering each specific television or group of televisions in the building. No one wants to sit at the bar and watch Price is Right reruns because the set-up staff forgot to change the channel.
Sticking to Policy
Club television policies should include which are on and when – covering regular days as well as days when notable sporting or news events are occurring. Channel or content should be specified per each clubs' preferences. Volume levels should be determined and established for each unit. It's OK to have some units in use and not others depending on the day or time of day.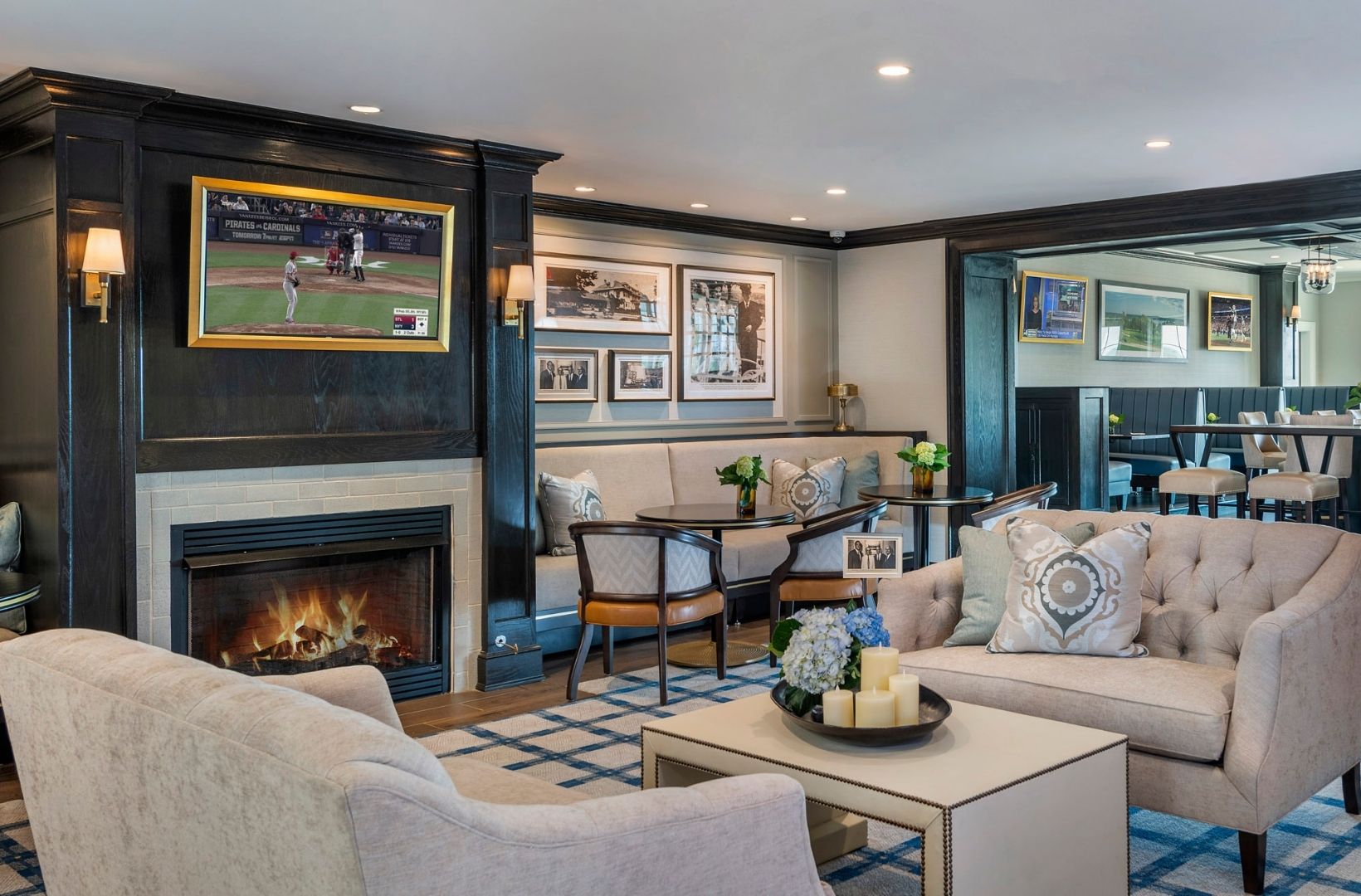 Navesink Country Club, Red Bank NJ | See more of this project here
Catering to the Crowd
Today's hi-tech televisions can easily be made into moving or static artwork if a blank screen is not desirable. Cabinet enclosures and decorative frames can also be used to improve the appearance when the TV is off, or on. And what happens when that member wants to watch their "show"? Policies for the TV should include a protocol for member requests. If the request falls within the written channel and timing policies, then no problem. If, however, it does not, then some member of management should address the request and make the appropriate decision taking that awkward encounter away from the server or bartender.
Maximizing their Impact
Televisions are an inextricable part of our lives, whether we like it or not. Proper execution will liven up spaces and promote engagement. Not leaving them to chance, but rather planning their locations carefully and controlling their utilization will maximize their impact.
Start with a Master Plan
If you're club is considering any club space revitalizations or renovations, you should be starting with a Master Plan. Download our E-Book: Developing a Master Plan to learn about our process to help turn your club's aspirations into membership approval.