Five Popular Private Club Enhancements
The private club community is thriving in the wake of the pandemic with more and more potential members searching for that perfect home away from home. Clubs, in turn, have taken on enhancement or renovation projects to attract and engage their member base, as well as potential members. These are the five most popular trends I've seen with our clients and the club operators with whom I have relationships.
1. Shift from Men's Club to Family Club
Without a doubt the most popular trend on the minds of all clubs – enhancements to attract family membership. Clubs are adding programs and amenities to engage with women and children. Long gone are the days of Men only on the golf course or tennis courts.
The addition of women's social activities is popular as well. Wine-tastings, book clubs, and themed events are just a few of the ways clubs are providing social engagement aimed at women. Women are the driving force behind certain amenities and programs catered to kids as well. The addition of junior golf, tennis, sailing and swimming programs, as well as lessons and clinics for all skill types and ages. Clubs are finding ways to provide families with options to keep the kids active in a structured environment. This includes camps and after-school activities as well.
Even within the older demographic clubs, family programs and amenities are becoming popular as grandparents tend to like having the grandchildren around, but like even more that the kids can be entertained, active, and safe. Structured activities and programs help combat the younger generations' phone addiction.
Many clubs without family-oriented amenities such as pools, casual/outdoor dining are making plans to add them.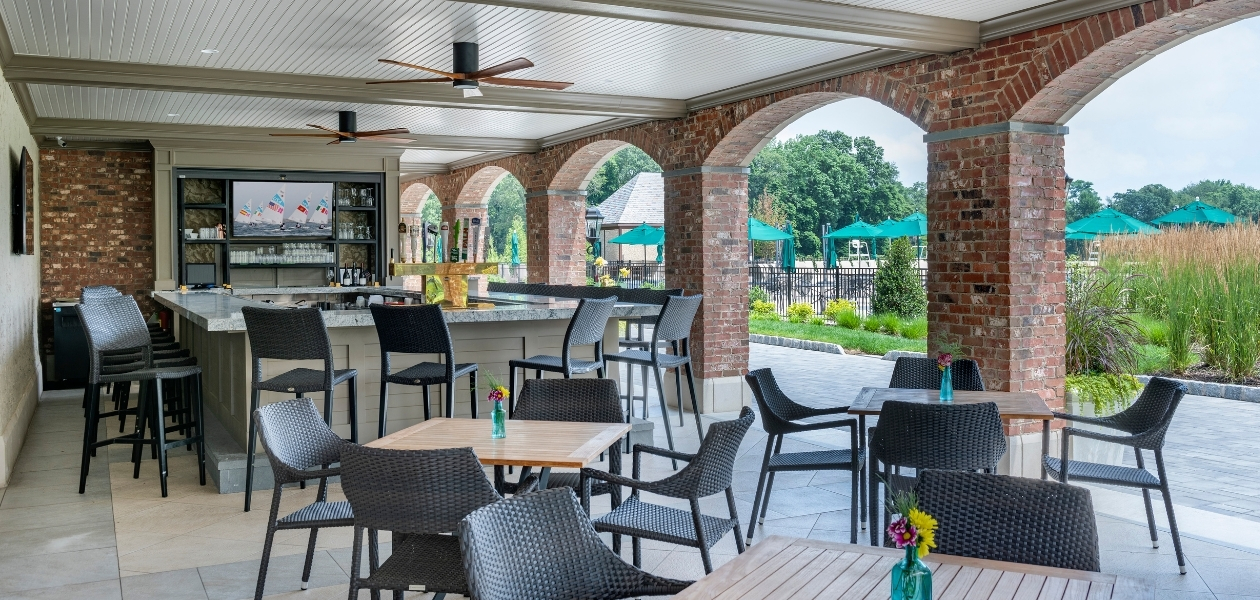 Ridgewood Country Club | Paramus, NJ
2. Year Round Club Use
Globally, one of the most popular desires among member s at the clubs in which we are working is the expansion of operating hours both on a daily basis and seasonal basis. The increased use of clubs over the past 2 years has engrained the club into the members' lifestyle. Their club has become, more than ever, part of their day to day routing. In season, members want to spend more time at the club and are asking for areas in the club that are open for gathering such as pool bars and fire pits. Seasonally, even clubs that traditionally limit hours and services seasonally are moving to offering more during the traditional "off season."
Some of the year-round drivers that we see include, a great bar and dining venue (naturally), golf simulators, hitting bays with Trackman, new or expanded fitness and paddle. We are also seeing increased interest in developing today's version of a business center – more of a Starbucks type space since many more members are spending more time working from home and need a place at the club to take a quick call or email in a private environment. Also, we are seeing desire for areas and programs for kids and tweens that allow parents to spend more time at the club.
3. Focus on Fitness
A well-equipped fitness and wellness center is becoming the must-have on the list for new members. This is in part a by-product of more women using clubs, but also the trend of living a healthy lifestyle. In addition to upgrading to more advanced equipment, Clubs are adding more and more group classes and training programs, as well as personal training sessions.
Many clubs are looking into Spa and mental wellness services as well as physical therapy and nutritional guidance. Healthy casual food and beverage options such as juice bars and healthy quick eats are being added in addition to promoting healthy entrees in main dining areas. A robust fitness and wellness center is helping clubs attract new members and retaining existing ones.
4. Clubs going Casual & Embracing Technology
Using your phone on the course is not the faux pas it once was, and clubs are becoming less concerned with attire. These days you are more likely to hear music on the golf course as well. Clubs are working on creating a more welcoming atmosphere while avoiding the loss of civility which can create tension between members of different generations. Adding a casual dining venue is a major trend that is aiding the transition.
Casual and/or outdoor dining is playing a big part in attracting family membership. This new welcoming atmosphere paired with the addition of young, trendy food and beverages is aimed to provide options, while keeping club traditions in existing dining areas sacred.
5. Increased Capital Spending on Facilities
So, you've probably caught on to the overarching theme here, but our industry is still in its build boom. Clubs are increasing their capital spending through master plans to ensure future success. The trend of expanding facilities and offerings aimed at attracting family membership is not going anywhere.
Renovation projects such as pool facilities, fitness centers, and casual dining options are driving the trend. Clubs aren't just looking to attract family membership but retain and increase non-dues revenue within this demographic. Clubs are adding varied level of membership as well - be it age based and/or single, couple, family to align pricing with amenities.
In conclusion, our five popular private club trends all align with the ultimate goal – attracting family membership, having members engage with the club, using the facilities, and treating the club like their home away from home.
Summer is here! See what Navesink Country Club added to their outdoor dining spaces.
Project Showcase: Navesink Country Club
---