Expanding on Private Club Outdoor Spaces
The last thing a club's management and leadership wants to hear from their members is WE WANT OUT! But that is what we have all been hearing for the past several years, in part fueled by COVID. We want out – side!
Temporary Solutions
Due to the immediate demand, some clubs sprung into action to add temporary solutions for outside spaces. Be it for social distancing guidelines, or just to expand capacity – outdoor seating and entertaining spaces became a necessary amenity. But these temporary solutions were supposed to be just that – temporary.
Permanent Accommodations
If you are still using temporary outdoor dining and gathering spots, the time is NOW to plan for permanent accommodations. Some of the most popular amenities continue to be inside/outside bars, Nana Wall Systems, seating pods, fire pits, retractable pergolas, and ample shade.
Assessing the Need
We have seen recent adjustments to how outdoor spaces and other amenities are implemented or located. One example is the popularity of fire pits has led to the need for multiple locations. More specifically, so many people are enjoying fire pits that the need has a risen for an addition grouping expressly for smokers. Assess how your members are currently using outdoor spaces, knowing this will increase with new expanded environs.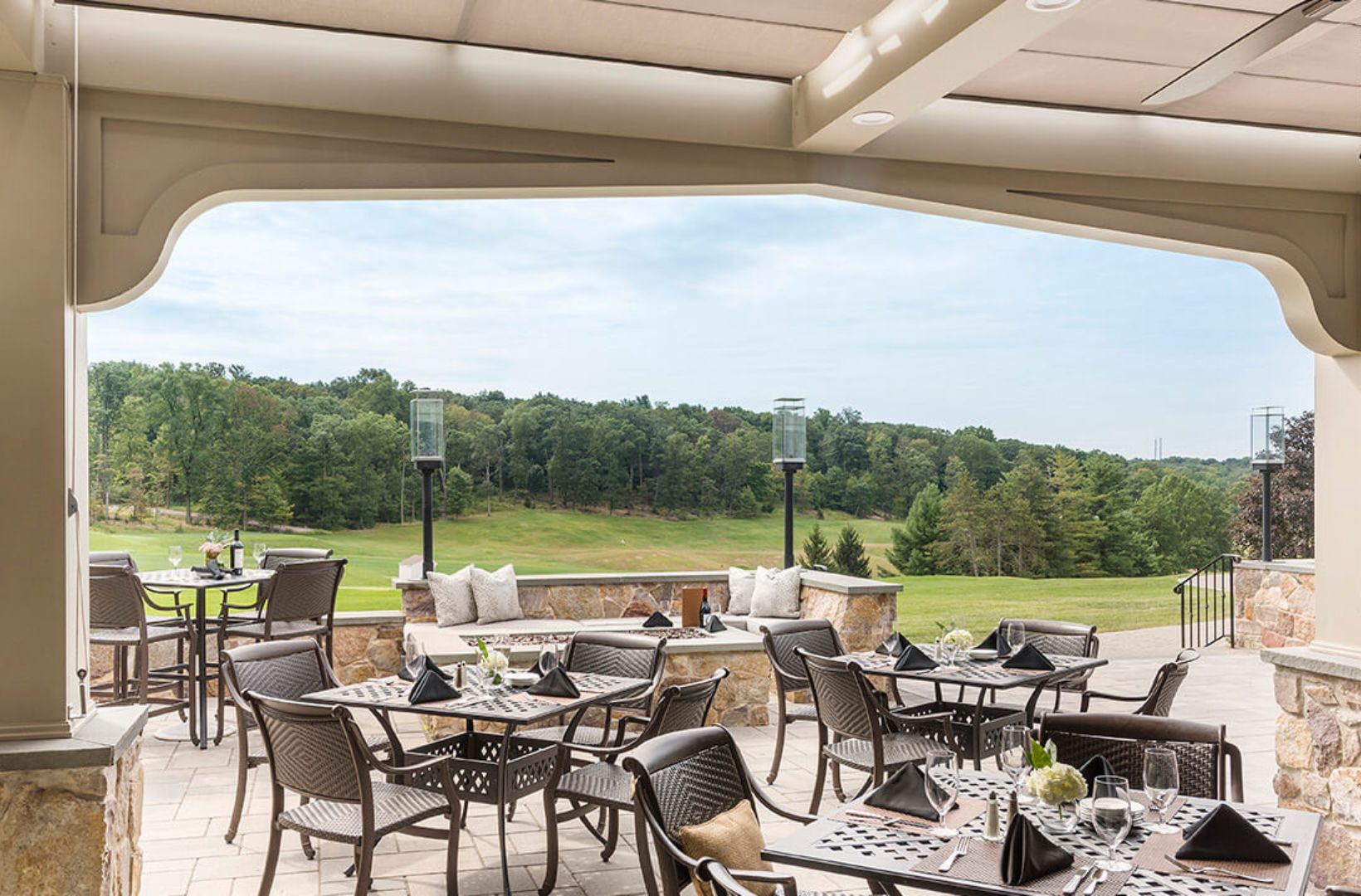 Crestmont Country Club | Orange, NJ
When to Act
So, when do you embark upon a plan for enhanced outdoor spaces? If you have not already done so – the answer is NOW! With the normal time to design, permitting issues and the added issue of extremely long lead times for furnishings and equipment, the time is now to begin the process.
Scoping & Planning
Understand the needs of patio versus deck and the proposed adjacencies of existing dining and bar venues. Can you get creative and connect your patio with a deck through the use of grand outdoor stairways? There is no limit to what you can accomplish other than available land.
Let's Get Started
Seek the advice of your architect or consultant and together, get creative. Talk to your members, watch how they currently use outdoors and do not put it off any longer. You will most definitely reap the benefits in increased revenue and expanded member satisfaction.
If you've been considering a capital expenditure project, be sure to start with a master plan. Need help? Learn more in our Developing a Master Plan E-Book.
See what Navesink Country Club added to their outdoor dining spaces.
Project Showcase: Navesink Country Club