Dining Options are the Key to Member Engagement
Not a single gathering of club professionals occurs without some discussion around what is trending and what is waning when it comes to the clubhouse. The most important and most discussed of these trends is attracting and engaging members. All other topics are strategy or tactics to accomplish that goal of a full and involved membership. Having dining options is the key amongst the many amenities and/or services that are used to engage our members.
The social and dining experience of our clubs is evolving. It's had to evolve over the years to account for the shift in how club life has changed. The conversation about the need for varied dining options has occurred in most boardroom and renovation discussions in our industry – with the option of a "casual" experience leading that discussion. We call it, "The Dining Complex."
1. Family Dining
Our families want to feel included and accepted when dining at their club. Parents do not want the pressure of worrying if the little ones are bothersome or a bit too active, so family need a space of their own. That space is not a separate room necessarily, but rather an integral part of the complex.
Naturally. Further from the bar is better but families need to feel that they remain part of the club community even when they are with the kids. The use of booths which "trap" the youngsters is important as is the presence of entertainment. Televisions, a pizza station, or similar interactive experience will engage the children and keep them coming back, excited.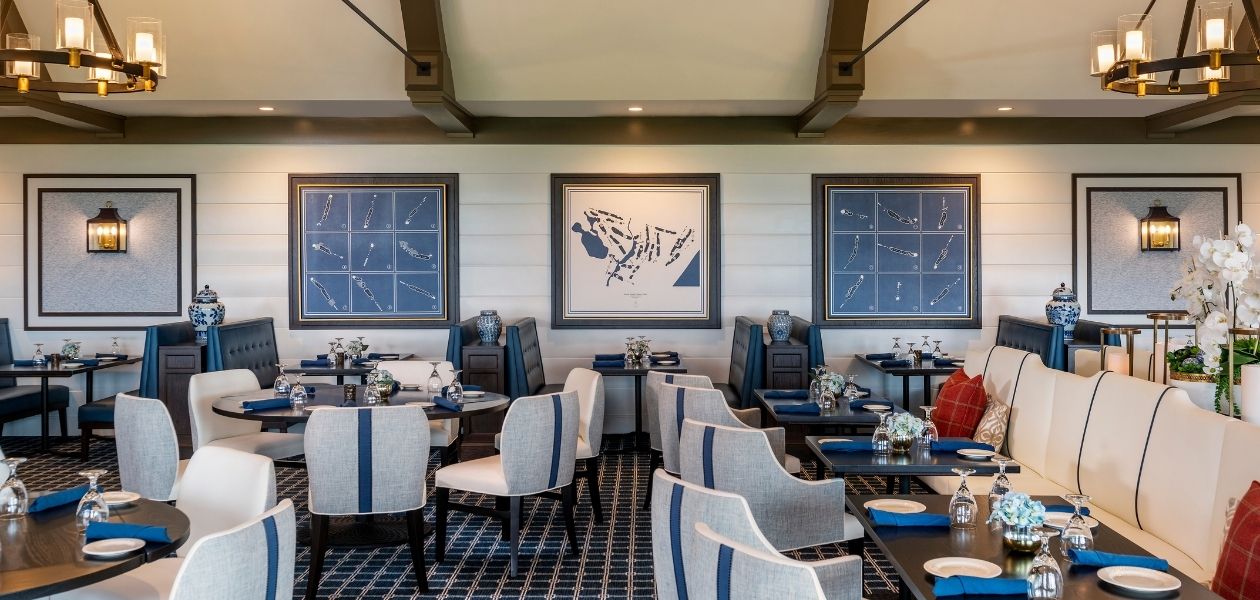 Rhode Island Country Club | Barrington, RI
2. The Bar
Just like any restaurant, the bar is key. It's the place where members meet, members eat, and members just hang out to watch tv and socialize. It's the place where everybody knows your name. It is socially and literally the center of it all and, unlike clubs of the past, is the most critical element to a successful social club environment.
3. Adult Dining
Clubs have moved decidedly in the direction of family centricity and will likely continue to do so. However, there are times in every club member's life that they want – or need – an adult experience. Their club's member dining space should continue to be their automatic choice. The adult dining space is a continuation of the bar incorporating some of its energy and excitement (and yes, a little of the noise.) It is styled to reflect the club's culture, history and demographics making use of a variety of materials, creative lighting and furniture that combines flexible and fixed seating accommodations.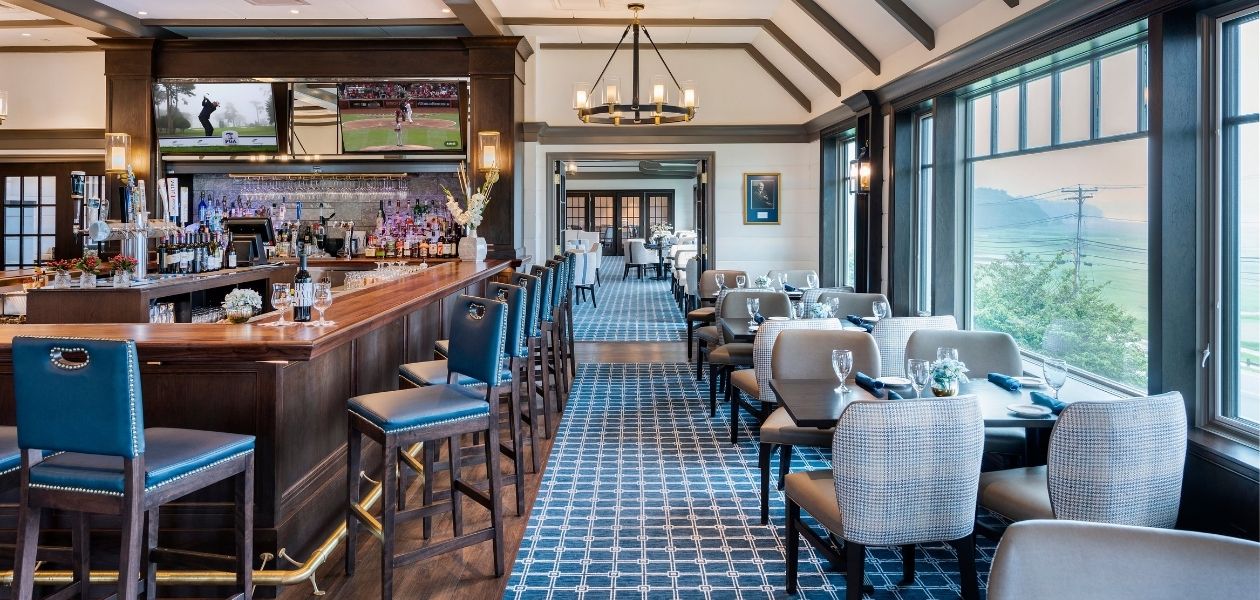 Rhode Island Country Club | Barrington, RI
4. Outdoor Dining
Everyone wants to be outside – to dine, to drink, to lounge around a fire pit – it all happens outdoors. The fourth element of any great dining complex is the outdoor lounge. Like the others, outdoor dining is connected to the overall bar/dining experience. If the bar can't be opening to the outside, a second bar makes sense. This is not paper plate pool dining but rather upscale al fresco featuring specialty cocktails and creative menus.
Conclusion
These four elements ideally are combined into a single dynamic space that can be apportioned flexibly, affording each user group their own comfort zone while they enjoy the company of their fellow members. For it is the dining complex that drives your members to adore what their club has to offer on a very regular basis. It's not just formal. It's not just casual. It's "just right" and always available.
Summer is here! See what Navesink Country Club added to their outdoor dining spaces.
Project Showcase: Navesink Country Club
---