Clubhouse Design to Attract Families
As everyone associated with the club industry knows, there has been a dramatic shift in member demographics. More importantly, this shift applies to the demographic of "potential members." Today's clubs are evolving to retain and attract families. But how? It starts with the clubhouse.
"If you build it, they will come." When Ray Kinsella (Kevin Costner in the movie, Field of Dreams) first heard that voice in an Iowa cornfield, he couldn't possibly have imagined that it would become a "call to action" on the lips of virtually every club manager and leader.
It was just a few years back when that phrase was a question – with a very uncertain answer. But due to the actions of many courageous managers and club presidents who believed that renovating an aging, tired and inefficient clubhouse would invigorate their membership, the question is once again a statement.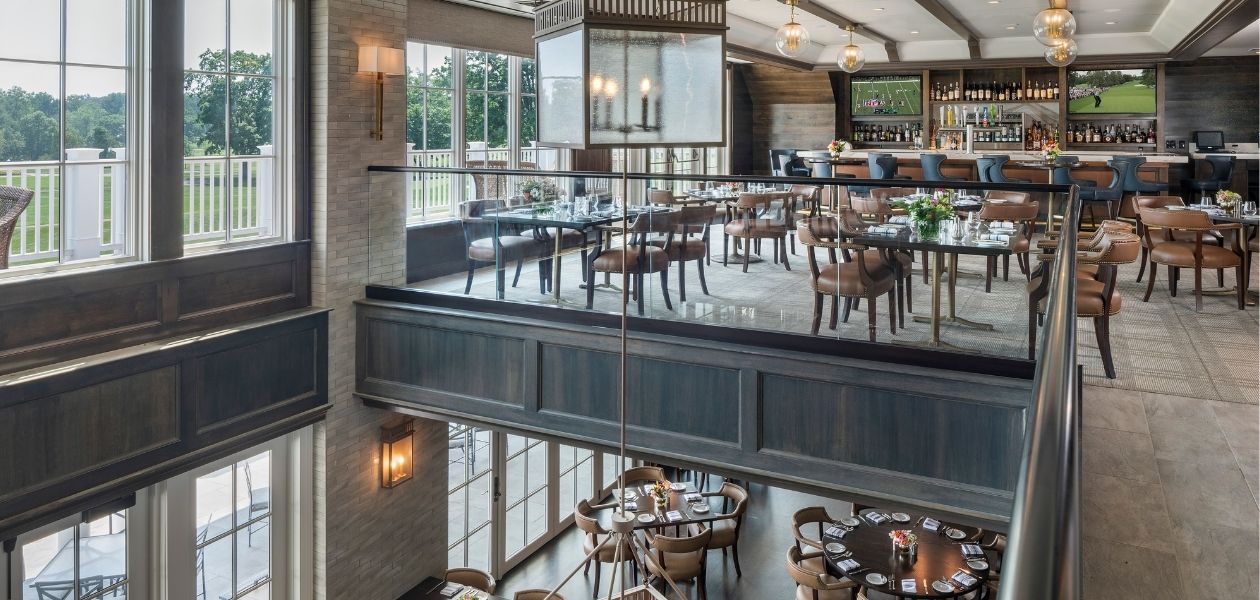 Echo Lake Country Club | Westfield, NJ
A successful clubhouse design attracts families. The desired atmosphere, while remaining "clubby" (a term with an unclear yet widely understood meaning), is more reflective of high-end resorts and restaurants. Pool complexes are being updated with among other things, zero entry pools, water slides and splash pads, as well as food and beverage outlets that entice not only daytime snack use but evening use as a summer alternative to the main clubhouse.
Features like bars and pavilions are driving revenue and not just swapping business but increasing member utilization. Clubhouse member dining areas are the single most popular renovation and design projects. A trend driven by the need to create a central gathering place for the club's community. Renovations are focusing on the development of dining spaces that combine an area for adults and an area for families. These integrated spaces create a single space for all, anchored by the most important element – the bar.
Much like any of the most successful and popular restaurants, a vibrant and attractive bar that encourages eating is imperative. Bars are important in what they represent for the members – a destination for fun, relaxation, and community.
The driving force behind a successful dining operation is the bar. However, beware of the "bar in every room" trap. Success of the bar is dependent on energy. Energy comes from people, your members. If your members have too many options the community, and thus the energy will be divided.
Dining venues supported by great bars must be equally spectacular. It is a challenge to develop appropriate seating areas for adults and families that are separate but connected. But it is critical to have a clubhouse design to attract families. Although many adult members have children and want to be able to feel comfortable in their club with their kids, they also want the option of an adult experience. So a balance of the two is key.
Typically, club dining spaces must keep flexibility at the forefront of design. The new bar and dining as well as pool facilities model requires some sacrifice of flexibility to create spaces that the members and their families can call their own.
A clubhouse designed to attract families will increase utilization of the club. Utilization equals member satisfaction, which translates into member retention and the gold ring – new member acquisition. Recent revenue models show if you build it, they will come.
See what Navesink Country Club added to their outdoor dining spaces.
Project Showcase: Navesink Country Club
---